A New Reality: COVID-19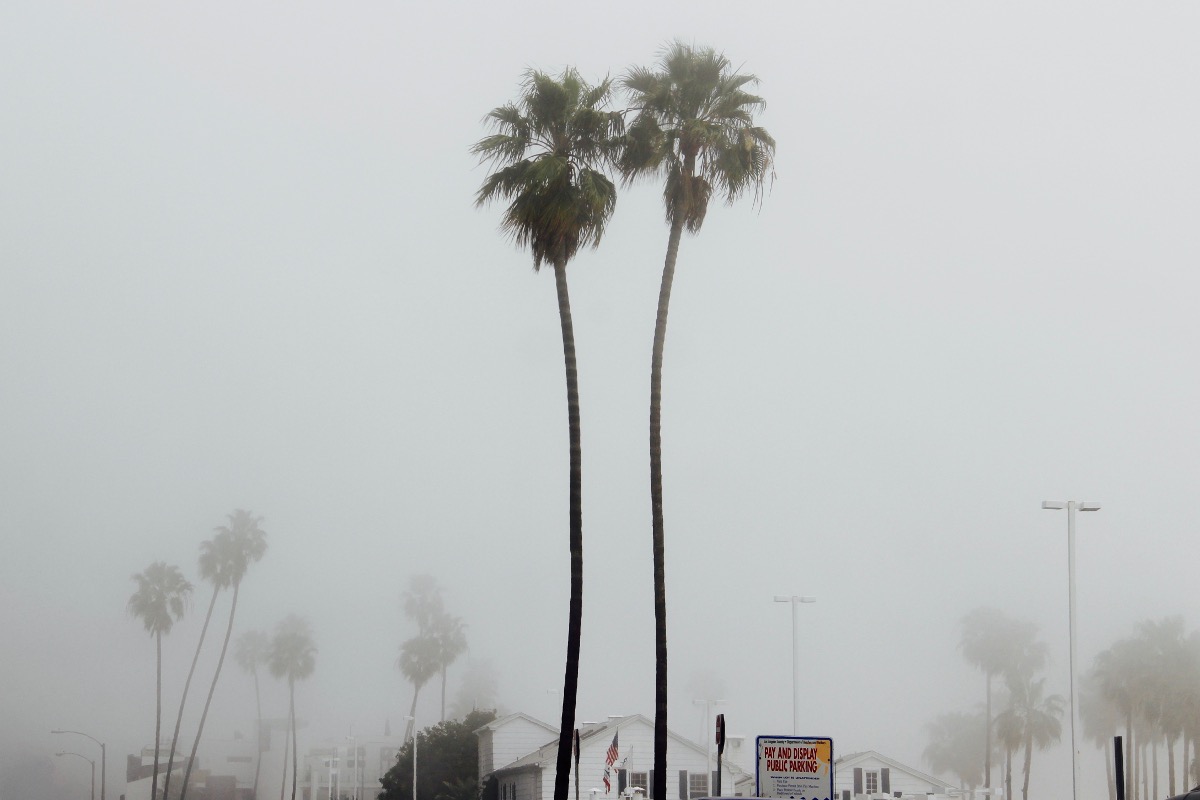 [This picture was taken three years ago in Los Angeles. I used it because it portrays a lot of uncertainty like the one we are currently living all over the world. Esta foto fue tomada hace tres años en Los Ángeles. La usé porque retrata mucha incertidumbre como la que estamos viviendo actualmente en todo el mundo.]
The first time I learned about the new coronavirus SARS-CoV-2 which causes the disease COVID-19, the outbreak was still only happening in China. At the time, I only saw a couple of videos of cities that looked like ghost towns and residents wearing masks. The videos looked like scenes from a very frightening movie. I naively thought the United States would protect the country from a coronavirus outbreak occurring here. On January, there were already confirmed cases of coronavirus in Washington, United States. At this point, I remember checking the news everyday until I came across a news article that confirmed the first case in Los Angeles. Many people would compare the symptoms to the flu so it was not too alarming for me at the time. However, I kept reading more about the new coronavirus such as how you can protect yourself from it. I read that washing your hands was a way as well as using hand sanitizer. That day, I went to a few different stores from CVS, Target, Ralphs, Vons, and Dollar Tree. Only one of the Ralphs I went to had a few pocket ones. I also ended up buying hand soap, disinfecting wipes, and disinfecting spray since I thought they would be essential too. I was confused as to why only hand sanitizers were gone, but not these other products that would also get rid of it. I also read about being prepared with two weeks of food, water, and essentials. I decided to do so to have a peace of mind.
My normal life seemed to continue to go on. I would still go to restaurants to dine in with no worry and booked a couple of concerts for the next coming months. Then from one day to another, items started selling out from stores. It first started with water and toilet paper, then non-perishable food, to medicine and basic hygiene products. People were panic buying. I personally hate lines so I continued to buy whatever I needed online. On March 11, COVID-19 was declared a global pandemic by the World Health Organization. Events started to get canceled like Coachella and other concerts. After learning how bad things started to get in other countries like national lockdowns being enforced, I started to worry more. The new coronavirus is not like the flu or cold; it is more serious. I learned more about the COVID-19 symptoms, things to do to prevent getting infected, treatment against it, and what groups of people it was affecting the most. There is no cure or treatment for COVID-19. Our bodies have to fight it off and in severe cases of pneumonia where someone is taken to ICU, ventilators are needed for breathing assistance. Sadly, some don't make it because their lungs become too damaged or other organs stop working due to not receiving enough oxygen. Sometimes, the difference whether someone in a critical state survives coronavirus or not is a ventilator. Ventilators are needed for oxygen meanwhile the patient continues to fight off the disease. There is only so many ventilators in the whole nation and only so many healthcare workers and hospital beds, which is why it is very important for everyone to do their part right now to slow down the spread of coronavirus so our healthcare system won't become overwhelmed to the point where doctors would need to make hard decisions as to who will have a chance to live or not.
Knowing of the worst possible scenario and everything else happening so fast where I live such as schools transitioning to online and businesses closing temporary, had gotten me so overwhelmed. It felt unreal, like a nightmare. It was just last week on Thursday when "Safer at Home" was ordered for the whole state of California by government officials. The emergency order is for people to stay in their homes other than for non-essential activities. Non-essential businesses were also ordered to close. Social distancing guidelines have also been implemented were people need to remain at least 6ft apart from each other. After there were a lot of crowds of people seen at beaches and parks during the weekend, government officials decided to close them down. Not everyone is taking the current situation seriously. We all need to in order to slow down the spread of coronavirus. It can take up to 12 days for symptoms to appear. Therefore, someone can be infected and not even know it. This is the reason why it is so important to stay home as much as possible and keep our distances (6ft or more) from people when we must leave our home. Following these guidelines are key to flatten the curve of the spread of coronavirus and save lives. I know this all happened too fast and we are living a new reality with a lot of uncertainty. It's scary, but the fastest we accept it, the better we can cope with it. I decided to create a new COVID-19 category on my blog where I will be posting more information related to COVID-19, how I am coping with this new reality, and ideas of what do at home. I hope you're staying well and safe. Don't forget to wash your hands often and to not touch your face. Stay at home as much possible, disinfect frequently touched items, and keep a distance from other people (6ft or more).
Only together we can slow down the spread of coronavirus.
---
La primera vez que me enteré del nuevo coronavirus SARS-CoV-2 que causa la enfermedad COVID-19, la epidemia todavía solo estaba ocurriendo en China. En ese momento, solo vi un par de videos de ciudades que parecían pueblos fantasmas y residentes con máscaras. Los videos parecían escenas de una película de terror. Ingenuamente pensé que Estados Unidos protegería al país de la epidemia de coronavirus. En enero, ya había casos confirmados de coronavirus en Washington, Estados Unidos. En este punto, recuerdo leer las noticias todos los días hasta que encontré un artículo de noticias que confirmaba el primer caso en Los Ángeles. Muchas personas comparaban los síntomas con la gripe y la flu, por lo que no fue demasiado alarmante para mí en ese momento. Sin embargo, seguí leyendo más sobre el nuevo coronavirus como cómo poder protegerse de él. Leí que lavarse las manos bien era una forma y también  usar desinfectante para manos. Ese día, fui a algunas tiendas diferentes incluyendo CVS, Target, Ralphs, Vons y Dollar Tree. Solo una tienda de Ralphs a la que fui tenía algunos desinfectantes de mano de bolsillo. También terminé comprando jabón de manos, toallas desinfectantes y spray desinfectante, ya que pensé que también serían esenciales. Estaba confundida sobre por qué solo habían desaparecido los desinfectantes para manos, pero no estos otros productos que también lo eliminarían. También leí acerca de estar preparado/a con dos semanas de comida, agua y lo esencial. Decidí hacerlo para tener tranquilidad.
Mi vida normal parecía continuar. Todavía iba a restaurantes a cenar sin preocupaciones y reservé un par de conciertos para los próximos meses. Luego, de un día para otro, las cosas en la tiendas se empezaron a vender completamente. Primero comenzó con agua y papel higiénico, luego alimentos no perecederos, medicamentos y productos básicos de higiene. La gente estaba comprando por pánico. Personalmente odio las líneas, así que seguí comprando lo que necesitaba por internet. El 11 de marzo, COVID-19 fue declarado una pandemia mundial por la Organización Mundial de la Salud. Los eventos comenzaron a cancelarse como Coachella y otros conciertos. Después de enterarme de lo mal que empezaron a ponerse las cosas en otros países, como el bloqueo nacional, me empecé a preocupar más. El nuevo coronavirus no es como la gripe o el resfriado; es más grave. Aprendí más sobre los síntomas de COVID-19,qué hacer para prevenir la infección, el tratamiento contra él y qué grupos de personas eran más afectados. No existe cura o tratamiento para COVID-19. Nuestros cuerpos tienen que combatirlo y en casos severos de neumonía donde alguien es llevado a terapia intensiva, se necesitan ventiladores para asistencia respiratoria. Lamentablemente, algunos no sobreviven porque sus pulmones se dañan demasiado u otros órganos dejan de funcionar debido a que no reciben suficiente oxígeno. A veces, la diferencia de si alguien en estado crítico sobrevive el coronavirus o no es un ventilador. Se necesitan ventiladores para el oxígeno mientras el paciente continúa luchando contra la enfermedad. Solo hay tantos ventiladores en todo el país y solo tantos trabajadores de la salud y camas en los hospitales, por lo que es muy importante que todos hagan su parte en este momento para reducir la propagación del coronavirus para que nuestro sistema de salud no se abrume hasta el punto de que los médicos tendrían que tomar decisiones difíciles sobre quién tendrá la oportunidad de vivir o no.
Conocer el peor escenario posible y saber todo lo demás que sucede tan rápido en el lugar donde vivo, como la transición de las escuelas a internet y el cierre temporal de unos negocios, me había abrumado. Se sentía irreal, como una pesadilla. Fue la semana pasada el jueves cuando los funcionarios del gobierno ordenaron "Más seguro en casa" para todo el estado de California. La orden de emergencia es que las personas se queden en sus hogares y que no salgan para actividades que no son esenciales. Los negocios no-esenciales también recibieron la orden de cerrar. Las guías de distanciamiento social también se han implementado en los casos en que las personas salgan de su casa. Deben permanecer al menos 6 pies de distancia o más entre sí. Después de que hubo una gran cantidad de personas vistas en playas y parques durante el fin de semana, los funcionarios del gobierno decidieron cerrarlos. No todos se toman en serio la situación actual. Todos necesitamos hacerlo para reducir la propagación del coronavirus. Los síntomas pueden tardar hasta 12 días en aparecer. Por lo tanto, alguien puede estar infectado y ni siquiera saberlo. Esta es la razón por la cual es tan importante quedarse en casa lo más posible y mantener nuestras distancias (6 pies o más) de las personas cuando debemos abandonar nuestro hogar. Seguir estas guías es clave para aplanar la curva de propagación del coronavirus y salvar vidas. Sé que todo esto sucedió demasiado rápido y estamos viviendo una nueva realidad con mucha incertidumbre. Da miedo, pero cuanto más rápido la aceptemos, mejor podremos manejarla. Decidí crear una nueva categoría de COVID-19 en mi blog donde publicaré más información relacionada con COVID-19, cómo estoy enfrentando esta nueva realidad, e ideas de qué hacer en casa. Espero que te mantengas bien y seguro/a. No olvides lavarte las manos con frecuencia y no tocarte la cara. Quédate en casa lo más posible, desinfecta los artículos que se tocan con frecuencia y toma distancia con otras personas (6 pies o más).
Solo juntos podremos reducir la propagación del coronavirus.
Truly,
Marisol Ceja