Lower Your Exposure to the Novel Coronavirus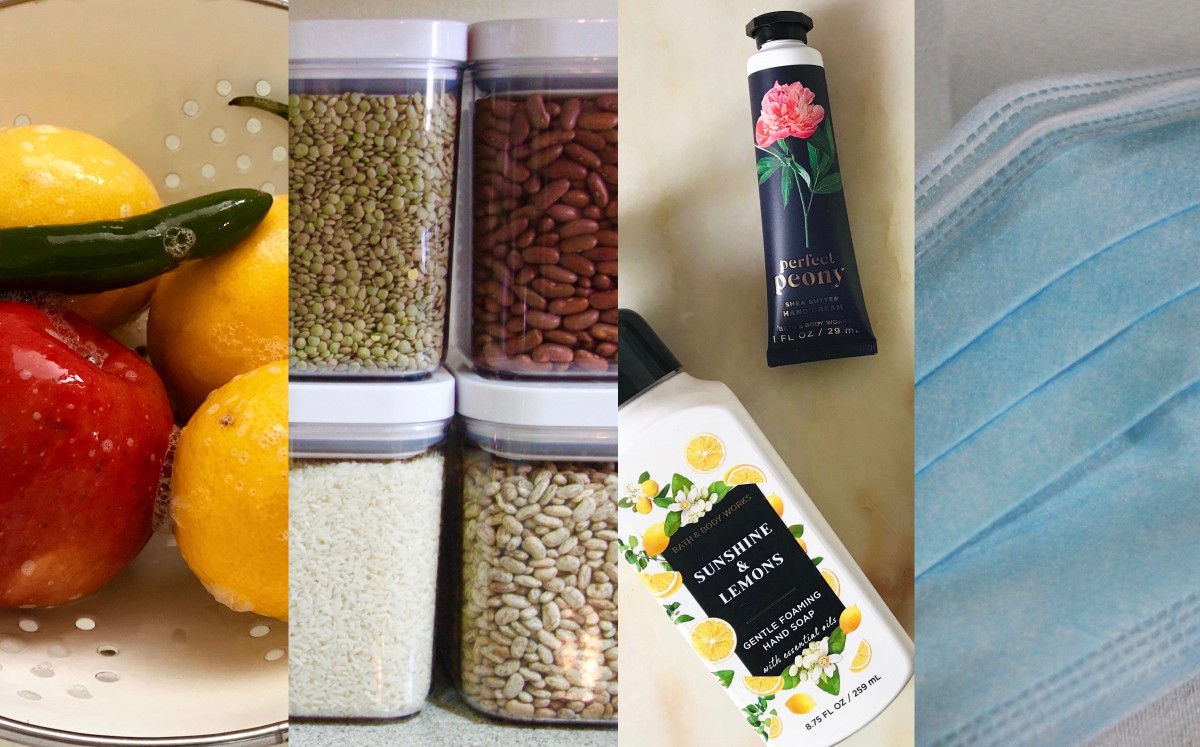 I hope you're staying safe and well amid the current COVID-19 global pandemic. I am trying my best to take every precaution to lower my exposure to the novel coronavirus. You probably already know some of the things I will be going over to protect yourself, but maybe there's a thing or two you'll find useful that you aren't doing yet and would like to add to your current routine. I will be discussing good personal hygiene, disinfecting and cleaning surfaces, masks, and social distancing in depth.
Good Personal Hygiene
One of the most important ways to protect yourself from the novel corona virus is washing your hands well frequently especially before touching your face (touching your face with dirty hands especially your nose, mouth, and eyes increases chances of infection to coronavirus), before and after using the restroom, before preparing food, and before and after eating. Also, before and after petting pets. Make sure you're washing your hands efficiently by scrubbing every area with soap and warm water for 20 seconds. It also helps to keep your fingers cleaner by trimming your nails short and not getting any superficial nails at the moment. If you don't have access to washing your hands especially when you make an essential trip such as to the grocery store or the gas station, use an alcohol based hand sanitizer with at least 60% ethanol or 70% isopropanol to disinfect your hands. I know washing your hands often and using hand sanitizer can start making your hands dry or sometimes even hurt. Use a good moisturizing hand cream or petroleum jelly to ease the effects of too much hand washing and hand sanitizer. A good tip is leaving petroleum jelly on your hands overnight.
Using gloves can also be useful when making an essential run especially if you don't have hand sanitizer. However, you need to make sure you're using them properly to avoid cross contamination. For instance, after you have touched something you don't know whether it has been cleaned and disinfected, avoid touching your cell phone and your face. Remove your gloves inside out and discard properly in a trash can before returning to your car or your home. I've seen pictures all over social media of masks and gloves been left on shopping carts and parking lots. Don't be a disgrace to humanity.
The only place I am currently leaving my home to is work. I live with an elderly parent so I am being extra careful and taking every precaution I can. As soon as I get home, I remove my shoes and socks outside the entrance door. I place each bare foot inside my home without touching the outside floor. I go straight to the bathroom to take a hot shower. Clothes are removed carefully inside out and placed in a bag to wash later. The novel coronavirus can remain on surfaces for a certain period of time. If it got on your clothes or shoes while being out of your home, it can remain there for hours or days depending on the material. I recommend doing this if you want to be extra careful especially if you are or live with someone who is at higher risk for severe illness of COVID-19. I also recommend wearing shoes outside your home that are easy to clean. I have been using my short rain boots out which are very easy to wipe down with a disinfectant.
Disinfecting and Cleaning Surfaces
According to a study published in The New England Journal of Medicine, scientists found in a controlled laboratory setting that the novel coronavirus can remain stable for a certain time on different types of surfaces. It can remain stable for up to four hours on copper, 24 hours on cardboard, and 72 hours on plastic and steel. Who knows how long it remains on other surfaces and under what conditions. This is why it is important to clean and disinfect surfaces especially frequently touched ones like doorknobs, light switches, faucets, toilets, tables, counters, cell phones, control remotes, computers, etc. Most household disinfectants work to kill coronavirus on surfaces. EPA registered disinfectants that work against the coronavirus can be found here. You'll find disinfectants listed that are commonly used including regular bleach, Lysol, Clorox, and 409. It is very important that you follow instructions of disinfectants to properly use them. They require a certain time to be left on surfaces to disinfect efficiently. This applies to disinfectant wipes as well. Surfaces may be required to remain wet for a few minutes after being wiped down. It is also important to check on what type of surfaces the disinfectant you're using can be used on. To disinfect electronics, read the manual to see what you need to use since they can be more sensitive. I've been using 70% isopropyl alcohol for my cell phone and laptop.
Besides frequently touched surfaces, I also clean and disinfect everything new that I am bringing to my home including groceries. If the item has a hard surface like hard plastic or metal, I wipe it down with disinfectant and once it has been disinfected, I rinse it well with warm water. For example, I do this with juice bottles and canned food. For food in cardboard boxes, I remove the inside contents. Cereal for example, I carefully remove the cereal plastic bag from the cardboard and wipe it down. It's also easier to just place certain foods straight into clean containers to not worry about the exterior wrapper. Legumes, bread, pasta, and cookies for example. When it comes to fruits and vegetables, if they have a hard skin like oranges and avocados, I wash them thoroughly with dish soap. I make sure they are rinsed well with water afterwards to avoid any soap staying on them. For other fruits and vegetables without a hard skin like raspberries and lettuce, I rinse them for a few minutes with warm water and leave them out for a few days before eating them. It is very important that you are being cautious with disinfecting outer food containers/wrappers and washing fruits/vegetables. You want to rinse everything well. The last thing you want to happen is to get poisoned. I found this youtube video by physician Dr. Jeffrey VanWingen very useful when it comes to taking care of your groceries during the COVID-19 global pandemic. He inspired me to use clean containers for some of my food.
Masks
In Los Angeles, it was ordered for people to wear a mask when leaving their home for essential activities starting last week on Friday. This measure has also been applied in other places too including the Czech Republic and South Korea. N95 masks are the most efficient masks at filtering out the novel coronavirus, but currently they are meant for healthcare on the front lines who are the ones most exposed to COVID-19 patients. Other masks are easier to find online and also there are many people making their own at home with their preferable fabrics which can also be useful in filtering a percentage of viral particles. The main purpose for everyone to wear a mask in public is to prevent our own germs from spreading. There can be people who are infected with the novel coronavirus, but don't show any symptoms at all. Also, there are some people that don't get symptoms until two weeks after being infected. Those that are infected and don't show symptoms can still spread the virus and infect others in close distance even when talking. Therefore, everyone wearing a mask when they leave their home for essentials runs will make a difference in slowing down the spread of coronavirus since it is treating the situation as anyone could be infected.
In order for masks to help slow down the spread of coronavirus, people need to use them properly. Make sure you wash your hands before putting on your mask and before removing it. Your mask needs to cover both your nose and mouth. I've seen a lot of people with masks just covering their mouth. You can still spread germs via your nose. Another thing, don't pull your mask down whenever you need to eat or drink something. If you're allowing the outer side of the mask to touch your face, whatever germs have landed on the outer of your mask can get on your face and potentially cause infection if it has any stable viral particles that cause illnesses. When you remove your mask (wash hands first), properly discard it in the trash can if it's a one-time use mask or if it's washable, place it in a bag to wash for later. If you plan on removing it to eat or drink and then re-using it afterwards, wash your hands first and place your mask on a clean tissue with the inside on the mask on it after removing it.
Social Distancing
The best way to prevent getting COVID-19 is to not be exposed to it at all. Hence, why you need to stay home as much possible to avoid being closed to other people. The main mode coronavirus is transmitted is between people via infected respiratory droplets and aerosols. Like I previously mentioned, some people that are infected don't show any symptoms, but can still spread the virus and get you sick. This is the reason social distancing guidelines were implemented such as staying home besides essential runs and keeping a distance from people (at least 6ft when in public). Your home serves as a controlled environment so inviting people that are not part of your household increases your chances of getting infected by coronavirus since you wouldn't know whether they are infected. Vice versa, if you're visiting other people, there is no way for you know if they are infected.
I am avoiding leaving my home other than for work to lower exposure. I get my groceries delivered via shipt.com and get other food and essentials shipped from other online stores including Target, Walmart, Ralphs, CVS, Staples, Office Depot, and Amazon. I make sure I disinfect and clean everything I receive before bringing it into my home. I know there are other delivery services available for food including Instacart and Amazon Fresh. If you're using delivery service where someone does your grocery shopping, make sure you tip them well. A little extra than you normally would. These people are exposing themselves for you and they deserve to be compensated for it. If you're at higher risk for severe illness of COVID-19 and can't afford to tip, at least please give them a good rating for their service.
If you're sick with any COVID-19 symptoms, don't leave your home at all if it isn't for testing or the hospital for an emergency. Don't go to any public places or to work since there is a higher potential of being a risk to the health of others. You may think it's a cold or the flu because some symptoms are similar to the ones of COVID-19, but you won't know unless you have been tested. There is a range of COVID-19 symptoms including a cough, fever, shortness of breath, body aches, chills, fatigue, runny nose, diarrhea, abdominal pain, nausea, loss of smell and taste, and redness of the eyes (there could be more). Not all COVID-19 patients get the same symptoms. The most alarming symptoms are fever and shortness of breath. If you have any symptoms, you need to call your doctor. Meanwhile before you are given instructions by your doctor, the responsible thing to do is to isolate yourself at home including from the people you live with.
We all have a responsibility during this COVID-19 global pandemic. By taking care of ourselves, we are taking care of others by helping slow down the spread of this contagious disease. We can only accomplish this together. If you have any questions regarding anything I mentioned, let me know in a comment below. Also if you have any helpful tips, I would like to know them! Thank you for stopping by.
Truly,
Marisol Ceja
---
Espero que estés bien durante esta pandemia mundial de COVID-19. Estoy haciendo todo lo posible para tomar todas las precauciones para reducir mi riesgo al nuevo coronavirus. Probablemente ya conoces algunas de las cosas que voy a mencionar para protegerte, pero tal vez hay una o dos cosas que aún no estás haciendo y que te gustaría agregar a tu rutina actual. Hablaré sobre la buena higiene personal, desinfectando y limpiando superficies, máscaras, y distanciamiento social en profundidad.
Buena Higiene Personal
Una de las formas más importantes para protegerte del nuevo coronavirus es lavarte las manos con frecuencia, especialmente antes de tocarte la cara (tocarse la cara con las manos sucias, especialmente la nariz, la boca y los ojos, aumenta las posibilidades de infección por coronavirus), antes y después de usar el baño, antes de preparar la comida, y antes y después de comer. Además, antes y después de tocar las mascotas también. Asegúrate de lavarte las manos de manera eficiente cubriendo cada parte de las manos con jabón y agua tibia durante 20 segundos. También, ayuda a mantener tus dedos más limpios a tener las uñas cortas y no obtener uñas superficiales en este momento. Si no tienes acceso a lavarte las manos, especialmente cuando vas a un lugar esencial, como a la marketa o a una estación de gasolina, usa un desinfectante para manos de base de alcohol con al menos 60% de etanol o 70% de isopropanol. Sé que lavarte las manos con frecuencia y usar desinfectante para manos puede comenzar a resecar tus manos o, a veces, incluso a dolerte. Usa una buena crema hidratante para las manos o vaselina para aliviar los efectos del lavado y desinfectante de manos en exceso. Un buen consejo es dejar vaselina en tus manos durante la noche.
Usar guantes también puede ser útil al ir a un lado esencial, especialmente si no tienes desinfectante para manos. Sin embargo, debes asegurarte de usarlos correctamente para evitar la contaminación cruzada. Por ejemplo, después de haber tocado algo que no sabes si ha sido limpiado y desinfectado, evita tocar tu teléfono celular y tu cara. Quítate los guantes al revés y deséchalos adecuadamente en un basurero antes de regresar a tu automóvil o tu hogar. He visto fotos en las redes sociales de máscaras y guantes en carritos de compras y en estacionamientos. No seas una desgracia para la humanidad.
El único lugar al que actualmente estoy dejando mi hogar para ir es el trabajo. Vivo con mi padre que tiene
más edad, por lo que tengo mucho cuidado y tomo todas las precauciones posibles. Tan pronto como llego a casa, me quito los zapatos y los calcetines afuera de la puerta de entrada. Coloco cada pie descalzo dentro de mi casa sin tocar el piso exterior. Voy directamente al baño a darme una ducha caliente. La ropa se quita cuidadosamente al revés y se coloca en una bolsa para lavarla más tarde. El nuevo coronavirus puede permanecer en las superficies durante un cierto período de tiempo. Si cayo en tu ropa o zapatos mientras estabas fuera de tu hogar, puede permanecer allí durante horas o días, dependiendo del material. Recomiendo hacer esto si deseas tener más cuidado, especialmente si estás o vives con alguien que tiene un mayor riesgo de enfermedad grave de COVID-19. También recomiendo usar zapatos fuera de tu casa que sean fáciles de limpiar. He estado usando mis botas de lluvia cortas que son muy fáciles de limpiar con un desinfectante.
Desinfectar y Limpiar Superficies
Según un estudio publicado en The New England Journal of Medicine, los científicos encontraron en un laboratorio controlado que el nuevo coronavirus puede permanecer estable durante cierto tiempo en diferentes tipos de superficies. Puede permanecer estable hasta cuatro horas en cobre, 24 horas en cartón, y 72 horas en plástico y acero. Quién sabe cuánto tiempo permanece en otras superficies y bajo qué condiciones. Es por eso que es importante limpiar y desinfectar las superficies que se tocan con frecuencia, como las chapas de las puertas, pagadores de luz, llaves de agua, toilets, mesas, mostradores, teléfonos celulares, controles remotos, computadoras, etc. La mayoría de los desinfectantes domésticos funcionan para matar el coronavirus en las superficies. Aquí se pueden encontrar desinfectantes registrados por la EPA que funcionan contra el coronavirus. Encontrarás desinfectantes en la lista que se usan comúnmente, como blanqueador común, Lysol, Clorox, y 409. Es muy importante que sigas las instrucciones de desinfectantes para usarlos adecuadamente. Requieren un cierto tiempo para dejar en las superficies para desinfectar de manera eficiente. Esto también se aplica a las toallitas desinfectantes. Es posible que se requiera que las superficies permanezcan húmedas durante unos minutos después de limpiarse. También es importante verificar en qué tipo de superficies se puede usar el desinfectante que está usando. Para desinfectar los electrónicos, lee el manual para ver qué necesitas usar, ya que pueden ser más sensibles. He estado usando alcohol isopropílico al 70% para mi teléfono celular y computadora portátil.
Además de las superficies que se tocan con frecuencia, también limpio y desinfecto todo lo nuevo que entroa mi casa, incluido la comida. Si el artículo tiene una superficie dura como plástico duro o metal, lo limpio con desinfectante y una vez que se ha desinfectado, lo enjuago bien con agua tibia. Por ejemplo, hago esto con botellas de jugo y comida enlatada. Para la comida en cajas de cartón, quito el contenido interior. Cereal, por ejemplo, quito cuidadosamente la bolsa de plástico de cereal del cartón y la limpio. También es más fácil colocar ciertos alimentos directamente en recipientes limpios para no preocuparse por la envoltura exterior. Legumbres, pan, pasta y galletas, por ejemplo. Cuando se trata de frutas y verduras, si tienen una piel dura como las naranjas y los aguacates, las lavo a fondo con jabón para lavar platos. Me aseguro de que se enjuaguen bien con agua después para evitar que quede jabón en ellos. Para otras frutas y verduras sin piel dura como frambuesas y lechuga, las enjuago durante unos minutos con agua tibia y las dejo afuera durante unos días antes de comerlas. Es muy importante que tengas cuidado al desinfectar los recipientes/envoltorios de alimentos  y al lavar las frutas/verduras. Quieres enjuagar todo bien. Lo último que quieres que ocurra es envenenarte. Encontré este video de YouTube del médico Dr. Jeffrey VanWingen muy útil cuando se trata de cuidar tus alimentos durante la pandemia global COVID-19. Me inspiró a usar recipientes limpios para algunos de mis alimentos.
Máscaras
En Los Ángeles, se ordenó que las personas usaran máscaras al salir de su casa para ir a lugares esenciales a partir de la semana pasada el viernes. Esta medida también se ha aplicado en otros lugares, incluida la República Checa y Corea del Sur. Las máscaras N95 son las más eficaces para filtrar el nuevo coronavirus, pero actualmente están destinadas a la atención médica en la primera línea, quienes son los más expuestos a los pacientes con COVID-19. Otras máscaras son más fáciles de encontrar en el internet y también hay muchas personas que hacen las suyas en casa con sus materiales preferibles que también pueden ser útiles para filtrar un porcentaje de partículas virales. El objetivo principal de que todos usen una máscara en público es evitar que nuestros propios gérmenes se propaguen. Puede haber personas infectadas con el nuevo coronavirus, pero no muestran ningún síntoma. Además, hay algunas personas que no presentan síntomas hasta dos semanas después de haberse infectado. Los que están infectados y no muestran síntomas aún pueden transmitir el virus e infectar a otros a corta distancia, incluso cuando hablan. Por lo tanto, todos los que usen una máscara cuando salgan de su hogar para hacer actividades esenciales harán la diferencia al disminuir la propagación del coronavirus, ya que se trata la situación como si cualquiera pudiera estar infectado.
Para que las máscaras ayuden a disminuir la propagación del coronavirus, las personas deben usarlas adecuadamente. Asegúrate de lavarte las manos antes de ponerte la máscara y antes de quitártela. Tu máscara necesita cubrir tanto tu nariz como tu boca. He visto a muchas personas con máscaras cubriéndose nomas la boca y no la nariz. Todavía se puede propagar gérmenes a través de la nariz. Otra cosa, no te bajes la máscara cada vez que necesites comer o beber algo. Si estás permitiendo que el lado externo de la máscara toque tu cara, los gérmenes que hayan caído en el exterior de la máscara pueden colocarse en tu cara y potencialmente causar infección si hay partículas virales estables que causan enfermedades. Cuando te quites la máscara (lávate las manos primero), deséchela adecuadamente en el bote de basura si es una máscara de uso una vez o si es lavable, colócala en una bolsa para lavarla más tarde. Si planeas quitártela para comer o beber y luego volver a usarla, lávate las manos primero y coloca la máscara sobre un pañuelo limpio con el interior de la máscara sobre el después de quitarla.
Distanciamiento Social
La mejor manera de evitar contraer COVID-19 es no exponerse a él. Por lo tanto, por qué necesitas quedarte en casa lo más posible para evitar estar cerca de otras personas. El principal modo de transmisión del coronavirus es entre personas a través de gotitas respiratorias infectadas y aerosoles. Como mencioné anteriormente, algunas personas infectadas no muestran ningún síntoma, pero aún pueden transmitir el virus y enfermarte. Esta es la razón por la cual se implementaron guías de distanciamiento social, como quedarte en casa además de las actividades esenciales y mantener una distancia de las personas (al menos 6 pies cuando estás en público). Tu hogar sirve como un ambiente controlado, por lo que invitar a personas que no forman parte de tu hogar aumenta tus posibilidades de infectarte con el coronavirus, ya que no sabrías si están infectados. Igual, si visitas a otras personas, no hay forma de saber si están infectadas.
Estoy evitando salir de mi casa aparte del trabajo para reducir mi riesgo. Recibo mis compras a través de shipt.com y obtengo otros alimentos y artículos esenciales de otras tiendas por internet como Target, Walmart, Ralphs, CVS, Staples, Office Depot, y Amazon. Me aseguro de desinfectar y limpiar todo lo que recibo antes de entrarlo a mi casa. Sé que hay otros servicios de entrega disponibles para alimentos, incluidos Instacart y Amazon Fresh. Si estás utilizando el servicio de entrega donde alguien hace tus compras, asegúrate de darles una buena propina. Un poco más de lo que normalmente lo harías. Estas personas se exponen por ti y merecen ser compensadas por ello. Si tienes un mayor riesgo de contraer una enfermedad grave de COVID-19 y no puedes dar propina, al menos, califícalos bien por su servicio.
Si estás enfermo/a con algún síntoma de COVID-19, no salgas de tu casa si no es para hacerte la prueba o para ir de emergencia al hospital. No vayas a ningún lugar público o al trabajo, ya que existe un mayor potencial de ser un riesgo para la salud de los demás. Puedes pensar que es un resfriado o la gripe porque algunos síntomas son similares a los de COVID-19, pero no lo sabrás a menos que hayas tenido la prueba. Hay una variedad de síntomas de COVID-19 que incluyen tos, fiebre, falta de aliento, dolor de cuerpo, escalofríos, fatiga, secreción nasal, diarrea, dolor abdominal, náuseas, pérdida del olfato y el gusto, y enrojecimiento de los ojos (podrían ser mas). No todos los pacientes con COVID-19 presentan los mismos síntomas. Los síntomas más alarmantes son fiebre y dificultad para respirar. Si tienes algún síntoma, debes llamar a tu médico. Mientras tanto, antes de que tu médico te dé instrucciones, lo más responsable es aislarte en tu hogar, incluso de las personas con las que vives.
Todos tenemos una responsabilidad durante esta pandemia global de COVID-19. Al cuidarnos a nosotros mismos, cuidamos a los demás al ayudar a disminuir la propagación de esta enfermedad contagiosa. Solo podemos lograr esto juntos. Si tienes alguna pregunta sobre cualquier cosa que mencioné, házmelo saber en un comentario abajo. ¡Además, si tienes algún consejo útil, me gustaría saberlo! Gracias por pasar.
Sinceramente,
Marisol Ceja