Jumbo Rocks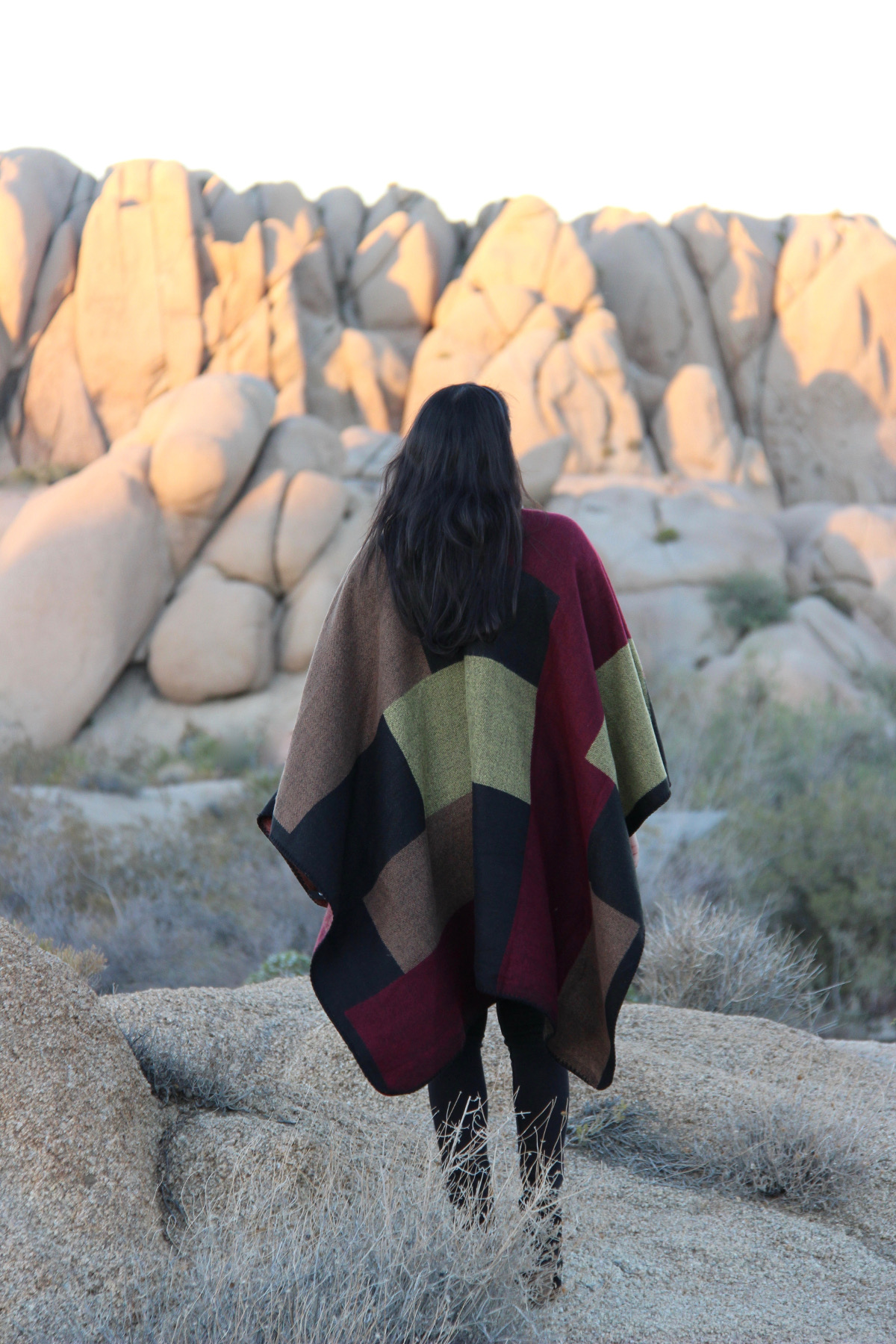 This past weekend, I went camping with family and friends at Joshua Tree National Park. We stayed at Jumbo Rocks Campground. The name of the campground perfectly describes what it is surrounded by: these enormous rocks. The unique rock formations were created over 100 million years ago by volcanic activity. I highly recommend this park to nature enthusiasts.
The first day of fall is this coming Thursday. Living in Los Angeles, it doesn't really start feeling like fall for me until the last days of October. Given the opportunity to visit Joshua Tree which has a different climate, I put together this fall outfit. I love booties and they make the perfect transition from summer to fall. I also love my poncho which I think makes a great fall statement clothing piece. I am looking forward to wearing it again this coming season. Are you looking forward to fall or will you be missing summer?
---
Este fin de semana pasado, fui a campar con familia y amigos en Joshua Tree National Park. Campamos en Jumbo Rocks Campground. El nombre del campamento describe perfectamente por lo que está rodeado: estas enormes rocas. Las formaciones únicas de estas rocas fueron creadas hace más de 100 millones de años por actividad volcánica. Recomiendo mucho este parque aquellos que aman la naturaleza.
El primer día de otoño es este jueves que viene. Viviendo en Los Ángeles, en realidad no se comienza a sentir como otoño para mí hasta los últimos días de octubre. Dada la oportunidad de visitar a Joshua Tree, que tiene un clima diferente, puse junto este look de otoño. Me encantan los botines y hacen la transición perfecta de verano a otoño. También me encanta mi poncho que creo que hace una gran pieza de ropa para el otoño. Pienso usarlo otra ves esta próxima temporada. ¿Tienes ganas que ya llegue otoño o vas a extrañar al verano?
Truly,
Marisol Ceja
Photo Credit: Jacinto Ruiz