Cancún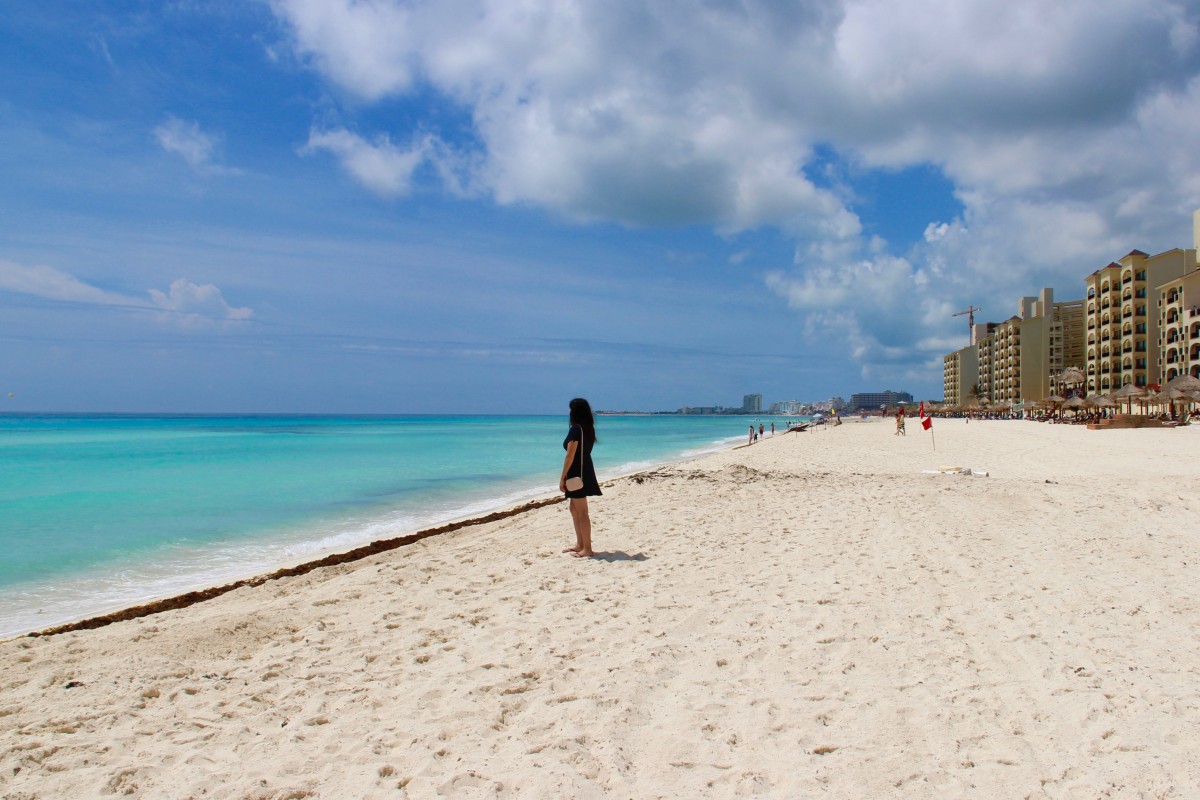 Last week I visited Cancún with my dad, a city with gorgeous beaches in Quintana Roo, Mexico. Other than its sandy white beaches with turquoise waters, Cancún is known for its nightlife and all-inclusive hotels. There are many historic places that are nearby this city to visit including Chichén Itzá, one of the seven new wonders of the world. With that said, these are some of the reasons that make Cancún one of the most visited cities on Earth.
---
La semana pasada visité Cancún con mi papá, una ciudad con hermosas playas en Quintana Roo, México. Además de sus playas de arena blanca con aguas turquesas, Cancún es conocida por su vida nocturna y hoteles con todo incluido. Hay muchos lugares históricos que están cerca de esta ciudad para visitar, como Chichén Itzá, una de las siete nuevas maravillas del mundo. Dicho esto, estas son algunas de las razones que hacen Cancún una de las ciudades más visitadas de la Tierra.
Where to Stay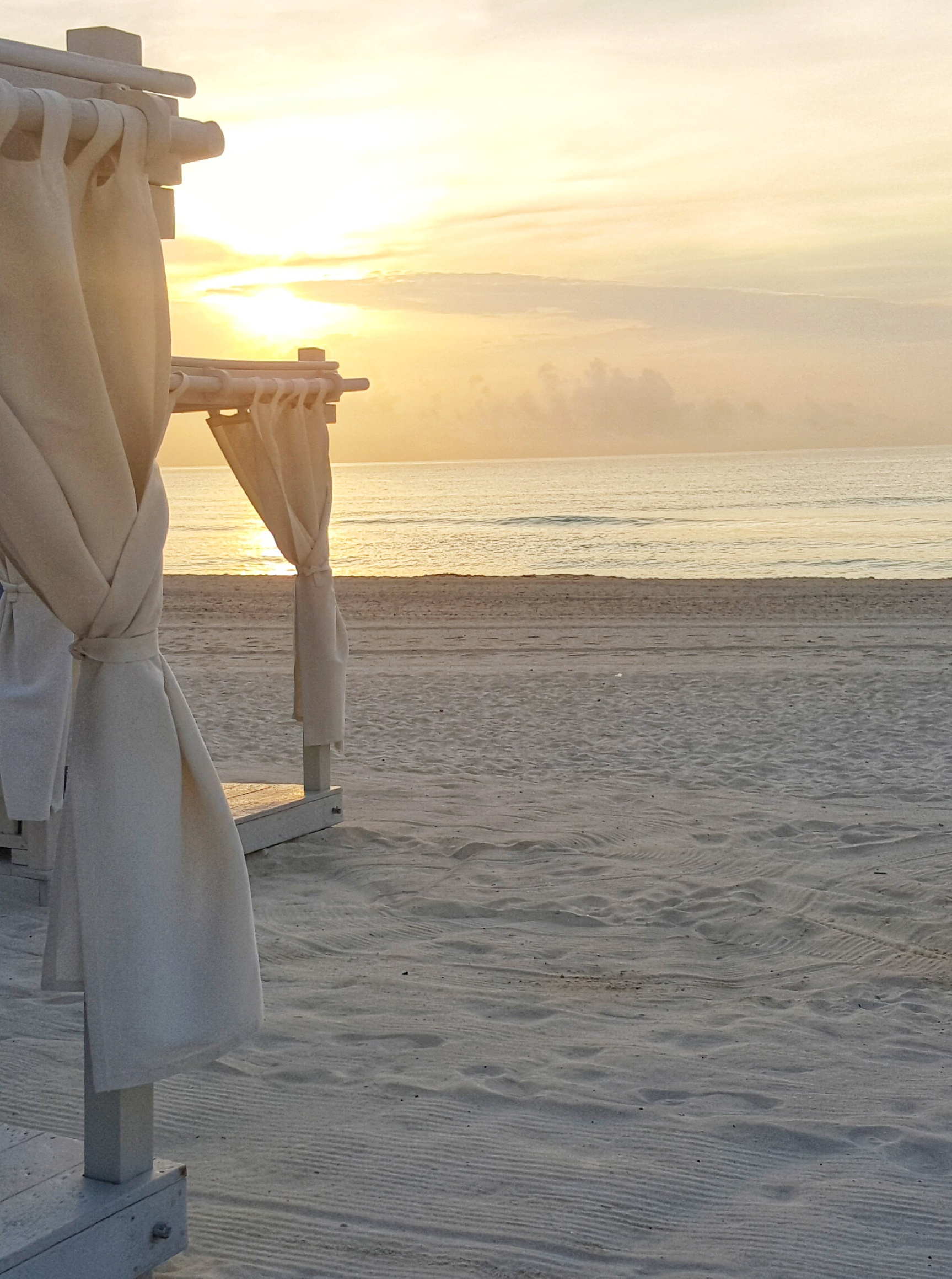 I highly recommend staying at a beach front all-inclusive hotel in Zona Hotelera of Cancún. This area of Cancún is full with hotels, some which are both beach front and all-inclusive. Also, this is one of the safest areas of Cancún. In an all-inclusive hotel, food and drinks are included. Depending on which hotel you stay at, it could include 24/7 room service and food at all the restaurants situated in the hotel.
This time, I stayed at the Omni Cancun Hotel & Villas. The Omni Cancun Hotel & Villas has about six restaurants and a few bars. My favorite restaurant was La Paloma. It's a buffet that serves breakfast, lunch, and dinner. All the food was delicious with amazing desserts. The main thing for me is that it offers many options for vegetarians. This hotel also provides beverages in the mini bar including water, beer, soda and juice. If you want room service, there is only a fee of $5 USD.
Staying at a beach front hotel, only heightens the experience. You can book a room with an ocean view and have this amazing view to wake up to every morning. Also, the beach is accessible within minutes which is very convenient. I've previously stayed at room in Cancún with no ocean view. This time around, I decided to and it made my experience way better. The only negative thing I have to say about staying at a beach front hotel is that it'll make you never want to leave.
---
Recomiendo mucho alojarse en un hotel con todo incluido frente a la playa en la Zona Hotelera de Cancún. Esta area de Cancún está llena de hoteles, algunos de ellos frente a la playa y con todo incluido. Además, esta es una de las áreas más seguras de Cancún. En un hotel con todo incluido, se incluyen alimentos y bebidas. Dependiendo del hotel en el que te alojes, podría incluir servicio de habitaciones las 24/7  y comida en todos los restaurantes situados en el hotel.
Esta vez, me alojé en el Omni Cancun Hotel & Villas. El Omni Cancun Hotel & Villas tiene como seis restaurantes y algunos bares. Mi restaurante favorito fue La Paloma. Es un buffet que sirve desayuno, almuerzo y cena. Toda la comida era deliciosa con postres increíbles. Lo principal para mí es que ofrece muchas opciones para vegetarianos. Este hotel también ofrece bebidas en el minibar, que incluye agua, cerveza, y refrescos. Si quieres servicio de habitación, solo hay una tarifa de $5 USD.
Alojarse en un hotel frente a la playa, solo aumenta la experiencia. Puede reservar una habitación con vista al mar y tener esta increíble vista para despertarse cada mañana. Además, la playa es accesible en cuestión de minutos, lo cual es muy conveniente. Me he alojado anteriormente en una habitación en Cancún sin vista al mar. Esta vez, decidí hacerlo e hizo que mi experiencia fuera mucho mejor. Lo único negativo que tengo que decir sobre la estancia en un hotel frente a la playa es que nunca querrás irte.
Places to Visit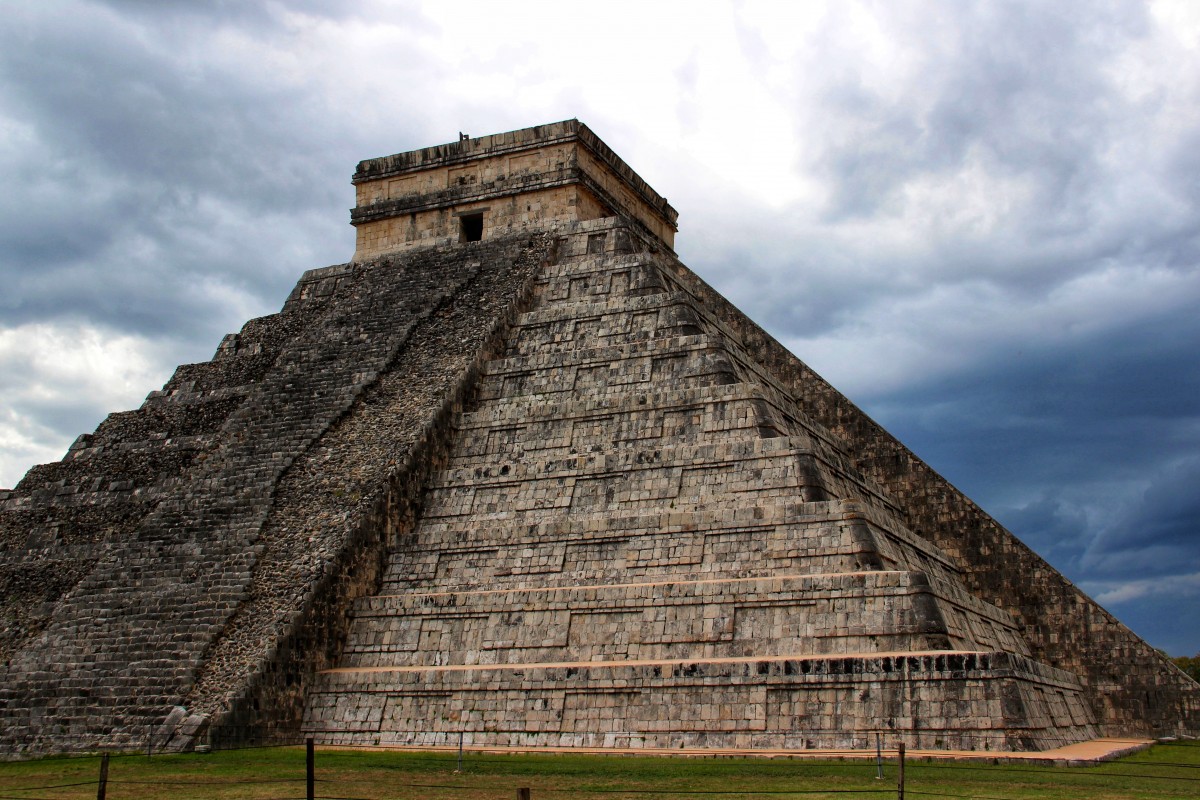 The best places to visit other than the beaches in Cancún, are actually outside of this city. Conveniently, in close proximity. The most popular place to visit is Chichén Itzá. Previously mentioned, Chichén Itzá is one of the seven new wonders of the world. This pre-hispanic city was built by the Mayans with impressive Temple of Kukulcán located in the center.
It is about a two hour drive to Chichén Itzá from Cancún. We rented a car during our stay in Cancún and we were initially planning on driving there since tours could be over priced. However, we found a good deal on a Chichén Itzá tour through Go Mexico in Playa Caracol where you purchase ferry tickets to go to Isla Mujeres. This tour included transportation from and to our hotel, a knowledgeable guide that provided history of the Mayans and the places we were visiting, lunch with Mayan people (we got to meet the shaman and got blessed), entrance to to Chichén Itzá, entrance to cenote Ik Kil and a stop in Valladolid which is a historic colonial Spanish town founded in the 16th century. Being only $52 USD per person, it was completely worth it.

---
Los mejores lugares para visitar además de las playas en Cancún, en realidad están fuera de esta ciudad. Convenientemente, muy cerca. El lugar más popular para visitar es Chichén Itzá. Anteriormente mencionado, Chichén Itzá es una de las siete nuevas maravillas del mundo. Esta ciudad prehispánica fue construida por los mayas con el impresionante Templo de Kukulcán ubicado en el centro.
Es un viaje de dos horas a Chichén Itzá desde Cancún en coche. Alquilamos un automóvil durante nuestra visita en Cancún e inicialmente planeábamos conducir allí ya que las tours podían ser muy caras. Sin embargo, encontramos una buena promoción de un tour de Chichén Itzá a través de Go México en Playa Caracol, donde se compra boletos de ferry para ir a Isla Mujeres. Este tour incluyó transporte desde y hacia nuestro hotel, un guía experto que hablo de la historia de los mayas y los lugares que estábamos visitando durante el viaje, almuerzo con los mayas (conocimos al chamán y fuimos bendecidos), entrada a Chichén Itzá, entrada a cenote Ik Kil y una parada en Valladolid que es una histórica ciudad colonial española fundada en el siglo 16. Siendo solo $52 USD por persona, valió la pena por completo.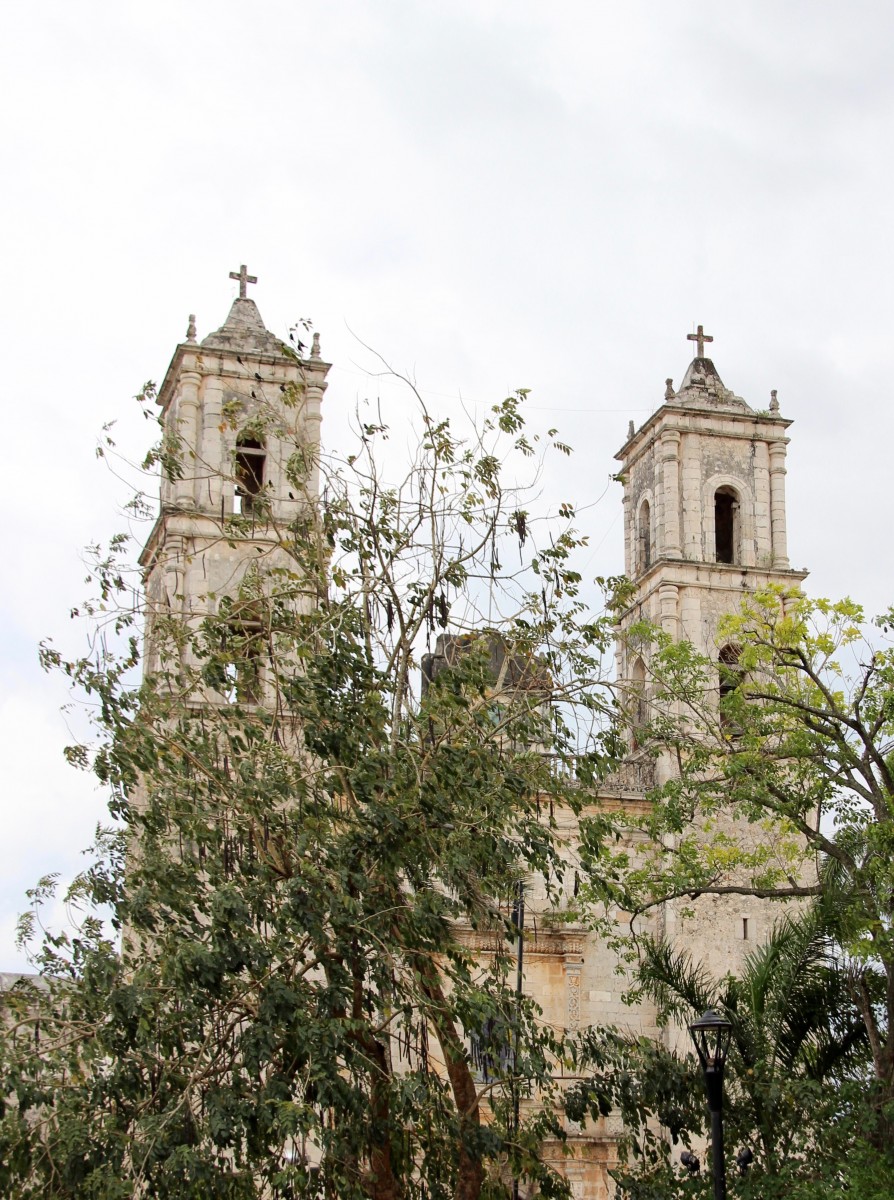 Cathedral in Valladolid
Catedral en Valladolid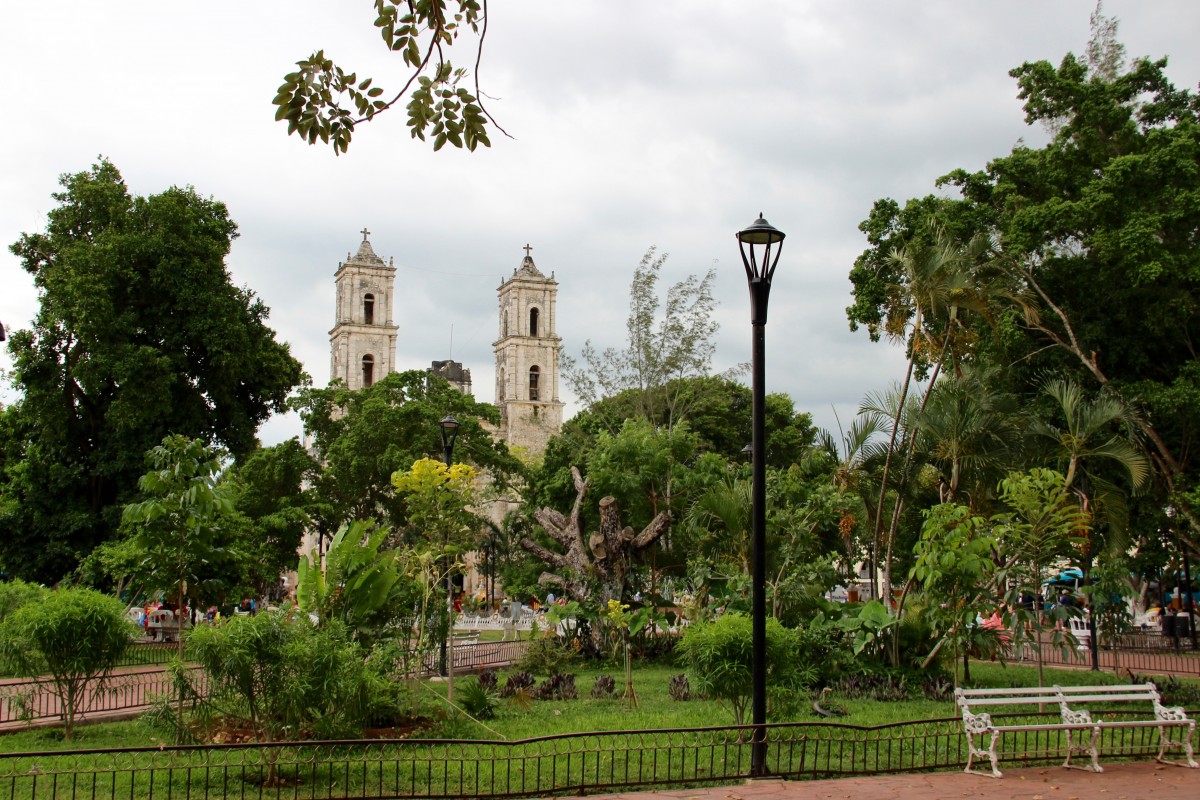 Square of Valladolid. You'll find delicious snacks here including corn in a cup, ice cream, and churros. I recommend the corn in a cup with Tostitos. You won't regret it.
Plaza de Valladolid. Aquí encontraras deliciosos aperativos incluyendo esquite, nieve, y churros. Recomiendo el esquite con Tostitos. No te arrepentirás.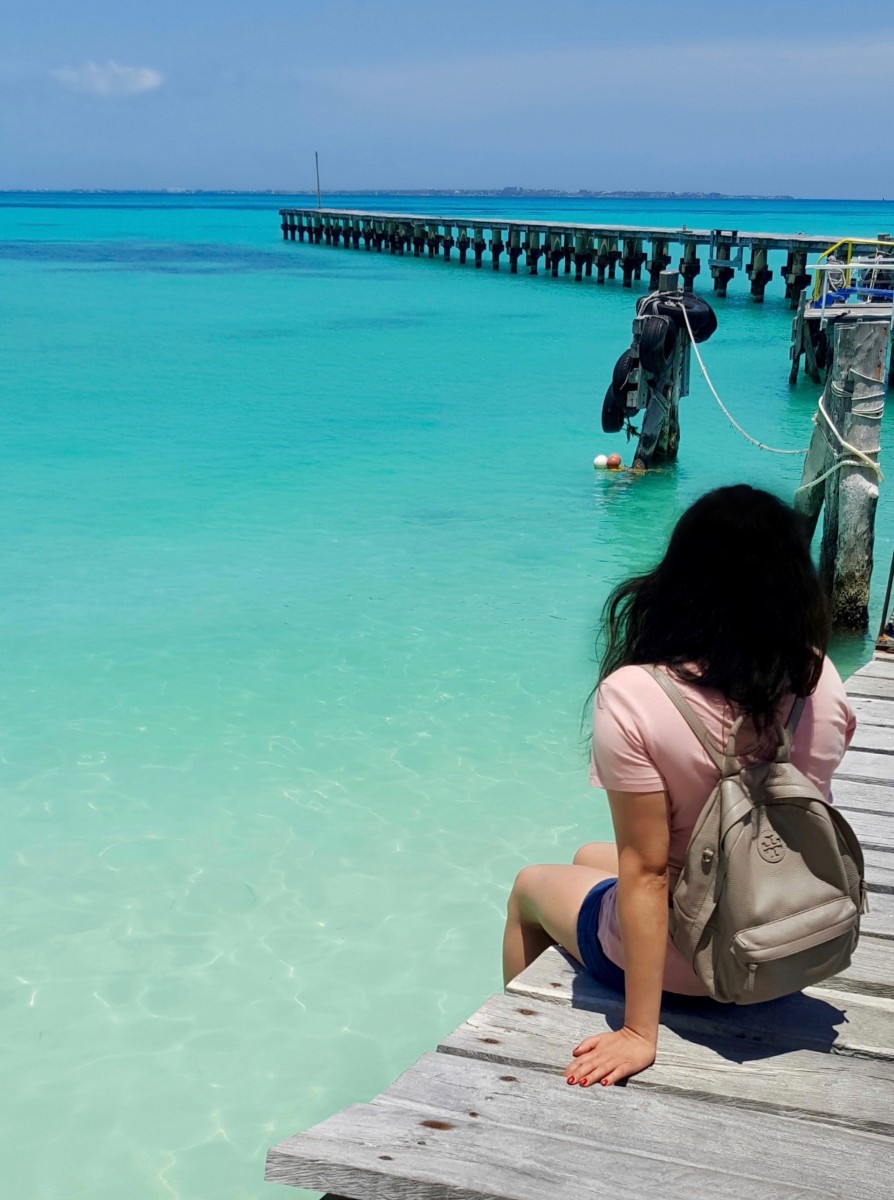 Another place to visit while staying in Cancún is Isla Mujeres. You can explore Isla Mujeres within a day and it is less than 30 minutes from Cancún by ferry. We took the ferry from Playa Caracol located in Zona Hotelera. There is parking at Playa Caracol and you can purchase the Ultramar ferry tickets there as well. Each ticket was $22 USD roundtrip. You can wait for the ferry at the pier. A bar is also right by the pier if you wish to have a drink beforehand.
Isla Mujeres is also known for its sandy white beaches with turquoise waters. We got around the island by walking, although there are golf carts available for rent. I recommend Isla Mujeres for shopping. There are a lot of shops all over the island with cute things to take back home. This is where I did most of my shopping during my whole trip.
---
Otro lugar para visitar durante tu estancia en Cancún es Isla Mujeres. Puedes explorar Isla Mujeres en un día y se encuentra a menos de 30 minutos en ferry desde Cancún. Tomamos el ferry desde Playa Caracol ubicado en Zona Hotelera. Hay estacionamiento en Playa Caracol y también puedes comprar los boletos para el ferry Ultramar allí. Cada boleto costo $22 USD para ida y vuelta. Puedes esperar el ferry en el muelle. Un bar también está justo al lado del muelle si deseas tomar una bebida antemano.
Isla Mujeres también es conocida por sus playas de arena blanca con aguas turquesas. Recorrimos la isla caminando, aunque hay carritos de golf disponibles para alquilar. Recomiendo Isla Mujeres para ir de compras. Hay muchas tiendas en toda la isla con cosas lindas para llevar a casa. Aquí es donde hice la mayoría de mis compras durante todo mi viaje.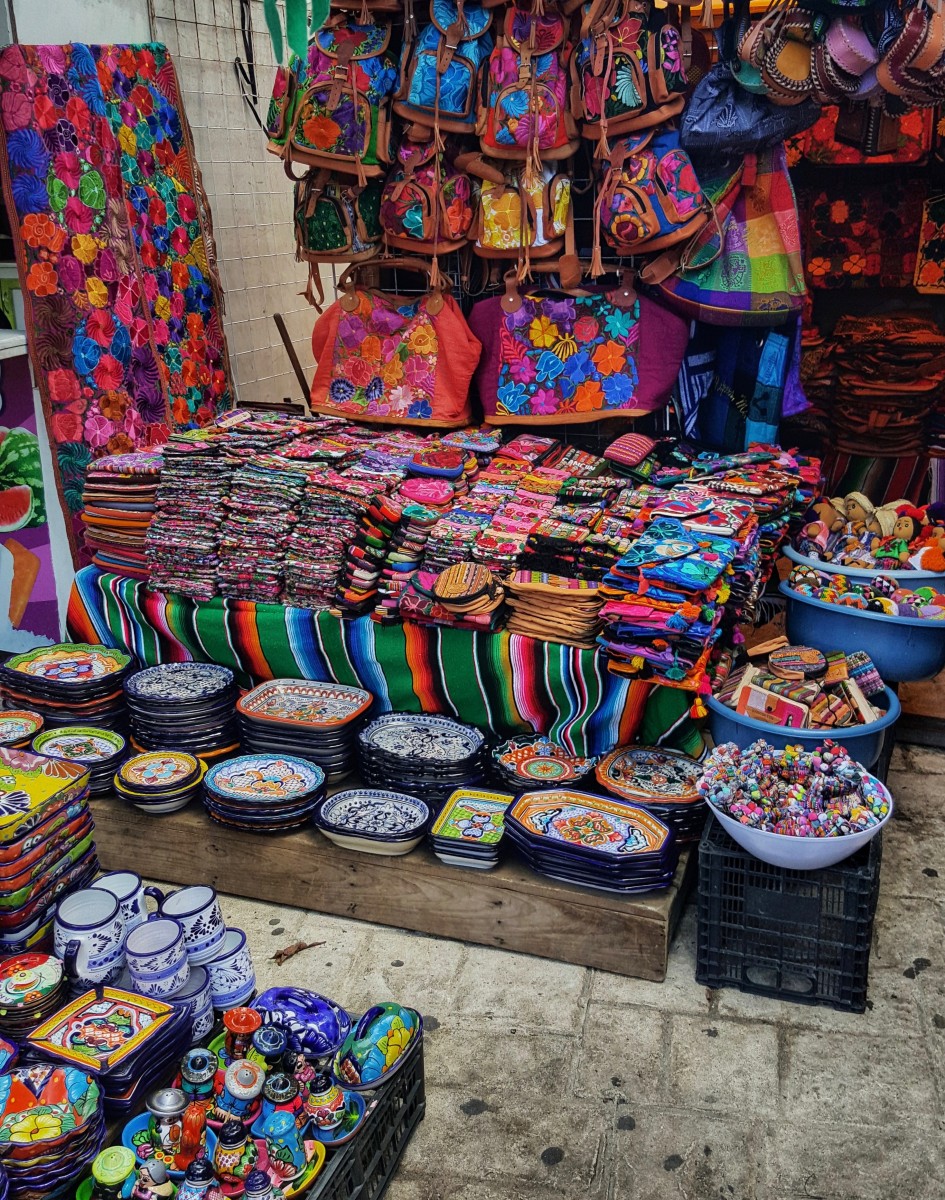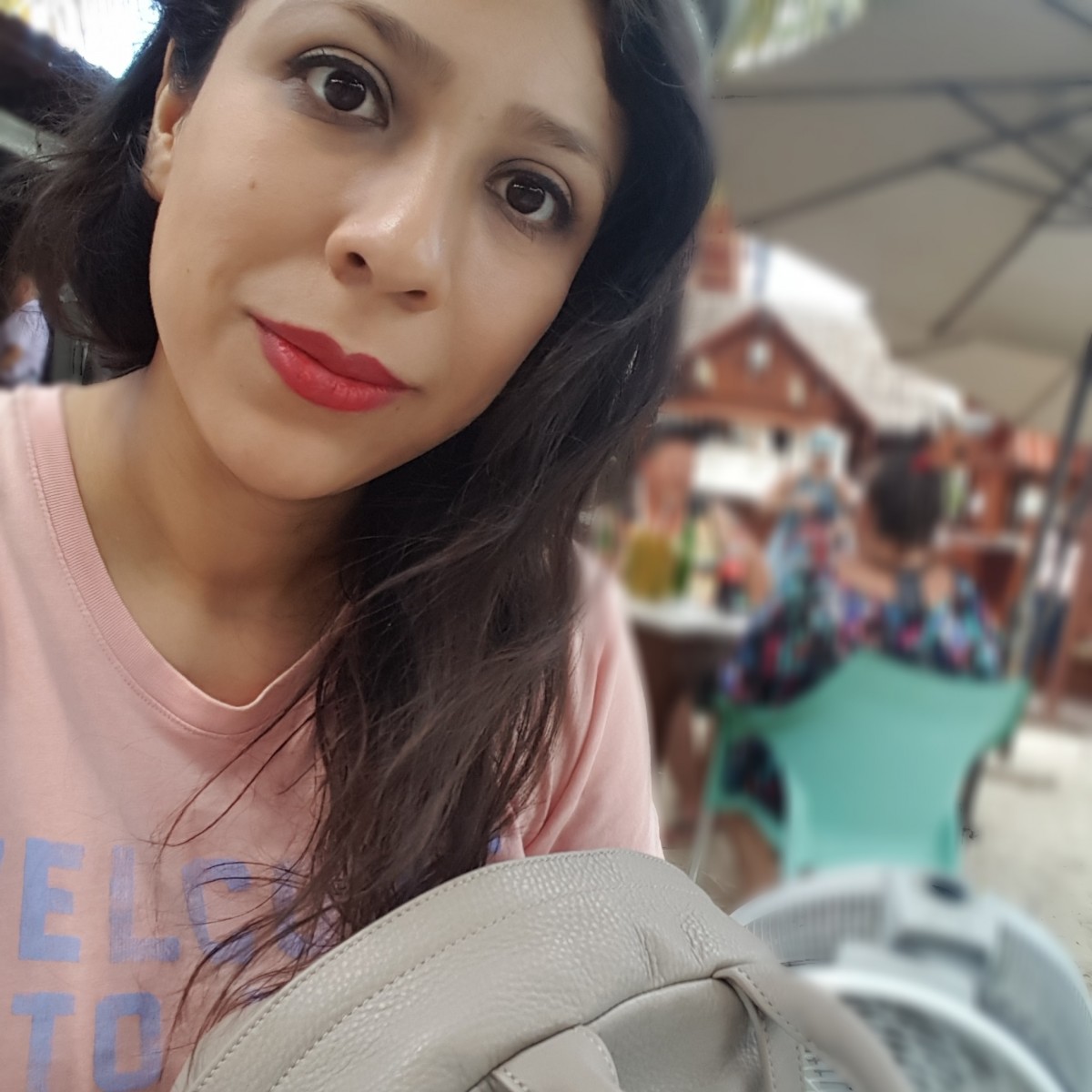 Taking a break after shopping.
Tomando un descanso después de las compras.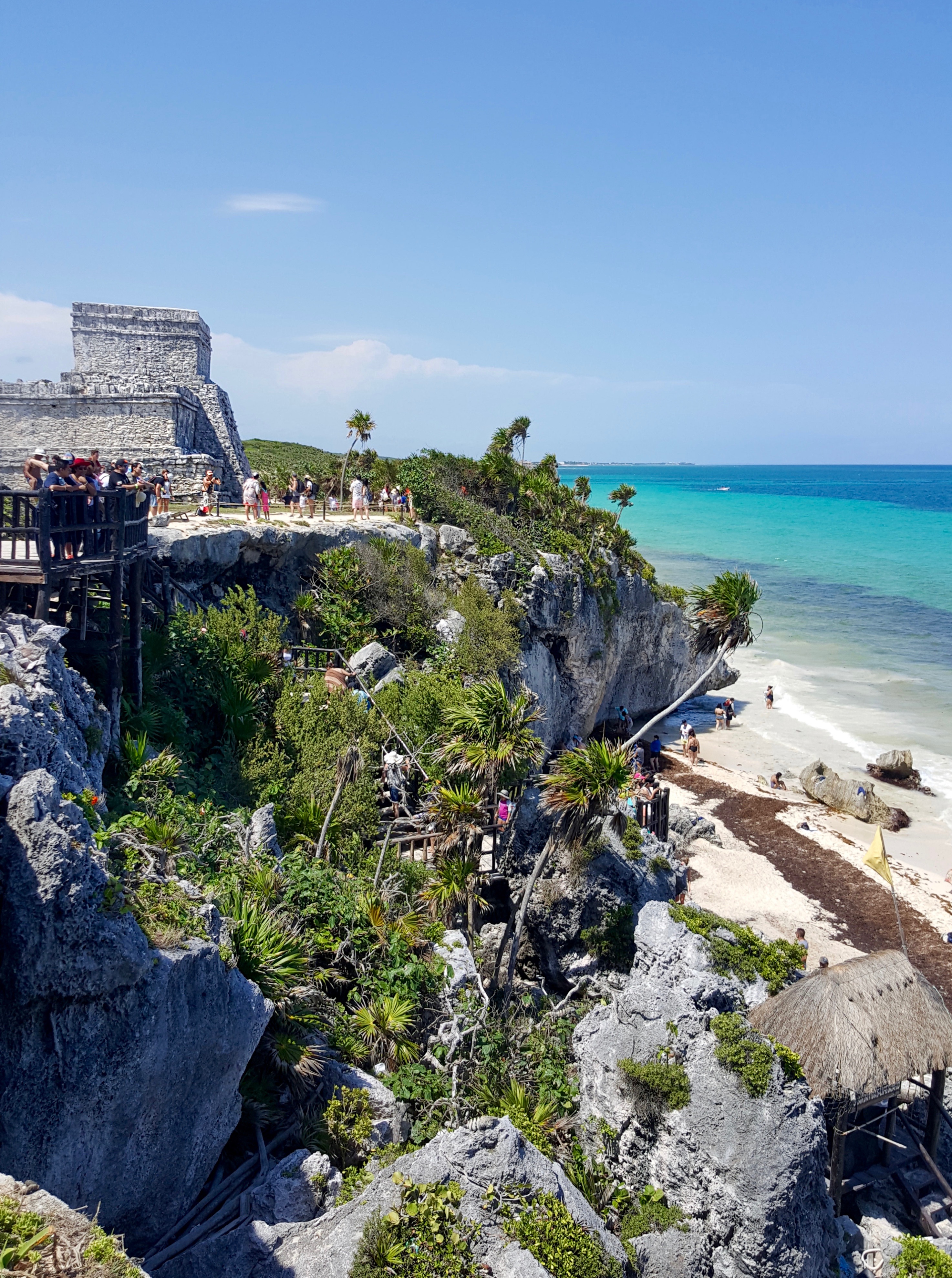 The last place we visited was the Mayan ruins in Tulum. This archaeological site overlooks the ocean and has accessible beaches. We drove there from our hotel and the drive was super easy. From the Zona Hotelera, you take Kukulcán Blvd to MEX-307 towards Tulum. There are signs everywhere on MEX-307 that lead towards the ruins and other destinations such as cenotes and amusement parks. The drive was about 1 hour and 45 minutes. There is parking outside of the ruins. To get to the entrance you can pay 20 pesos (includes roundtrip) to take a small train which will take you to the ticket booth located right by the entrance of the ruins. Each ticket to enter the ruins is 70 pesos.
---
El último lugar que visitamos fueron las ruinas mayas en Tulum. Este sitio arqueológico tiene vista al océano y playas accesibles. Fuimos en coche desde nuestro hotel y el viaje en coche fue muy fácil. Desde la Zona Hotelera, tomas Kukulcán Blvd hasta MEX-307 hacia Tulum. Hay señales en todas partes en MEX-307 que guían hacia las ruinas y otros destinos como cenotes y parques de diversión. Hay estacionamiento afuera de las ruinas. Para llegar a la entrada puedes pagar 20 pesos (incluye ida y vuelta) para tomar un pequeño tren que te llevará a la boletería ubicada junto a la entrada de las ruinas. Cada boleto es de 70 pesos para entrar a las ruinas.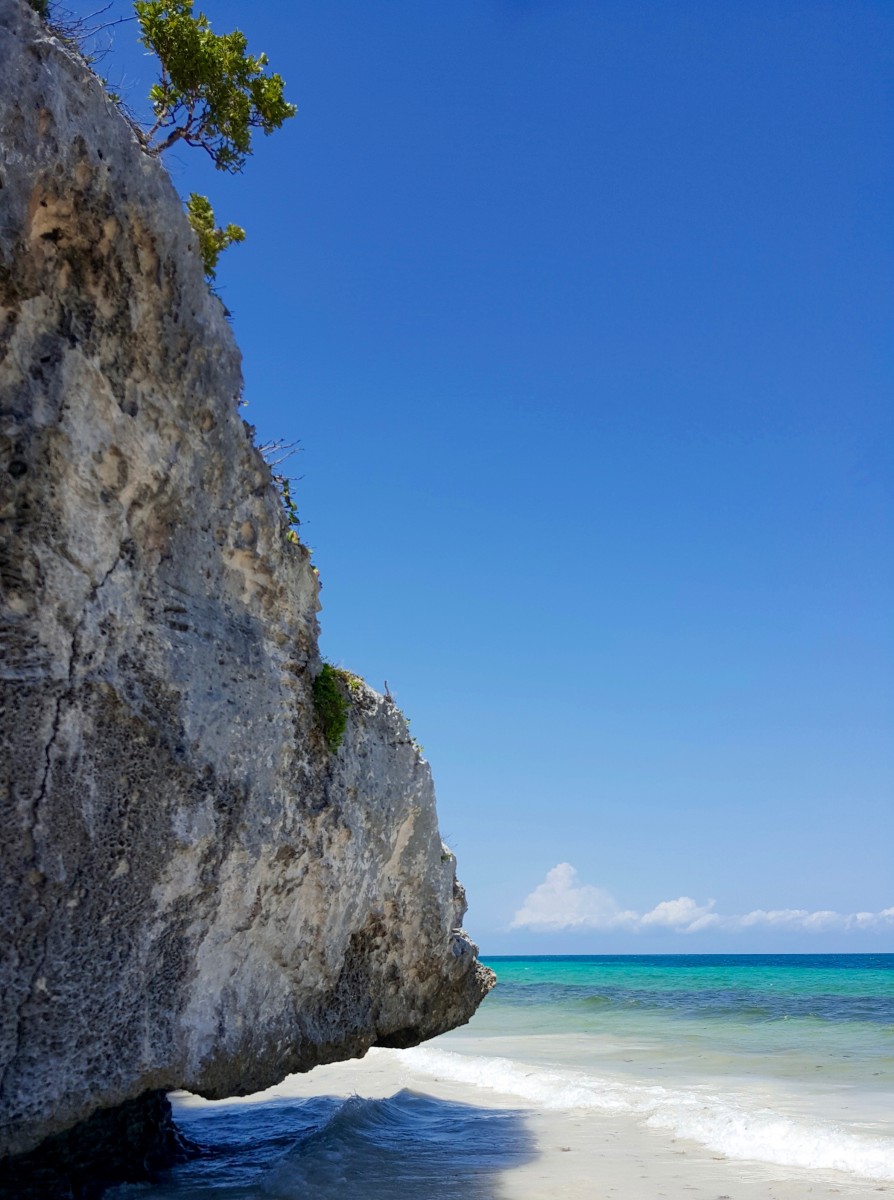 Safety
I felt safe during my trip in Cancún the whole time despite what the media has expressed as of recently. Caution should be practiced while traveling in Cancún just like in any other place you're visiting. Always do your own research regarding a new area you're planning on visiting. The truth is that if you're scared, you're never going to go anywhere. Tragedies could happen even in the cities you believe to be the safest.
---
Me sentí segura durante mi viaje en Cancún todo el tiempo a pesar de lo que los medios han expresado recientemente. Se debe tener precaución al viajar en Cancún al igual que en cualquier otro lugar que estés visitando. Siempre haz tu propia investigación con respecto a una nueva área que piensas visitar. La verdad es que si tienes miedo, nunca vas a ir a ninguna parte. Las tragedias podrían ocurrir incluso en las ciudades que crees que son las más seguras.
Tips
Don't forget to take sunscreen. A bottle of Banana Boat sunscreen can cost about $20 USD in Cancún. I used Murad's Invisiblur Perfecting Shield for the face and Supergoop!'s Super Power Sunscreen Mousse for overall use that came in a sunscreen gift set I bought from Sephora before my trip. You can wear Murad's Invisiblur Perfecting Shield as a primer for your make-up as well. I love these products and given that the weather was pretty hot and humid, I never got sun burned.
Take a mini umbrella that doesn't take a lot of space. There could be unexpected rain.
If you're staying at an all-inclusive resort, don't forget to take extra money for tips. Even though all food and beverages are included, please tip your server and bartender.
Most hotels exchange currency. Contact your hotel before your departure to make sure it does just case you would like to exchange money there.
If you're booking a tour, make sure it is from a known company. Go Mexico's website is gomexico.travel
If you're planning on renting a car, you will need a driver's license and a credit card to make a deposit. I advise to call the car rental agency directly to check how much they require for a deposit. I recommend Avis, Enterprise, and Firefly.
Some cell phone providers offer free roaming in Mexico which include unlimited texting and data. I know Sprint and T-Mobile do for sure.


---

No olvides llevar protector solar. Un pomo de Banana Boat protector solar puede costar alrededor de $20 USD en Cancún. Yo usé Invisiblur Perfecting Shield de Murad para la cara y Super Power Sunscreen Mousse de Supergoop! para un uso general que vinieron en un set de regalo de protectores solares que compre en Sephora antes de mi viaje. También puedes usar Invisiblur Perfecting Shield de Murad como imprimación para tu maquillaje. Me encantan estos productos y dado que el clima era bastante caluroso y húmedo, nunca me quemo el sol.
Lleva una mini sombrilla que no ocupe mucho espacio. Podría haber lluvia inesperada.
Si te vas a quedar en un hotel con todo incluido, no olvides de llevar dinero extra para propinas. A pesar de que todos los alimentos y bebidas están incluidos, por favor da propina a tu servidor y bartender.
La mayoría de los hoteles cambian dinero. Contacta tu hotel antes de tu partida para asegurarte de que si cambia por si al caso te gustaría cambiar dinero allí.
Si vas ha reservar un tour, asegúrate de que sea de una compañía conocida. El sitio web de Go Mexico es gomexico.travel
Si planeas alquilar un automóvil, necesitarás una licencia de conducir y una tarjeta de crédito para hacer un depósito. Aconsejo llamar directamente a la agencia para ver cuánto requieren para el depósito. Recomiendo a Avis, Enterprise, y Firefly.
Algunos proveedores de telefonía celular ofrecen roaming gratuito en México, que incluye mensajes de textos ilimitados e internet. Sé con seguridad que Sprint y T-Mobile lo ofrecen.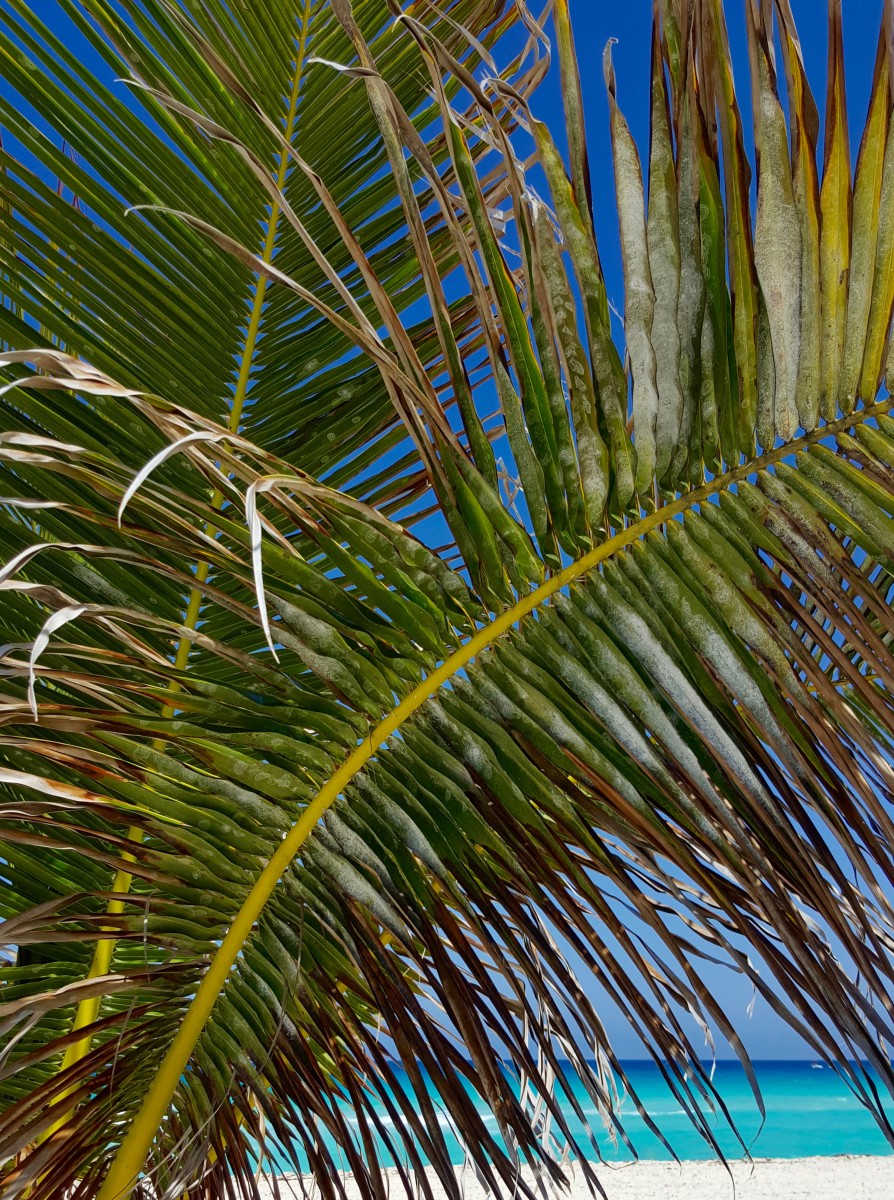 If you're planning on making Cancún your next travel destination, I hope the information I provided was helpful. If you have any questions, don't hesitate to ask. Thank you for stopping by!

Si planeas hacer de Cancún tu próximo destino de viaje, espero que mi información te ayude de alguna manera. Si tienes alguna pregunta, no dudes en preguntar. ¡Gracias por pasar!

Truly,
Marisol Ceja
Photo Credit: My dad