The Living Dead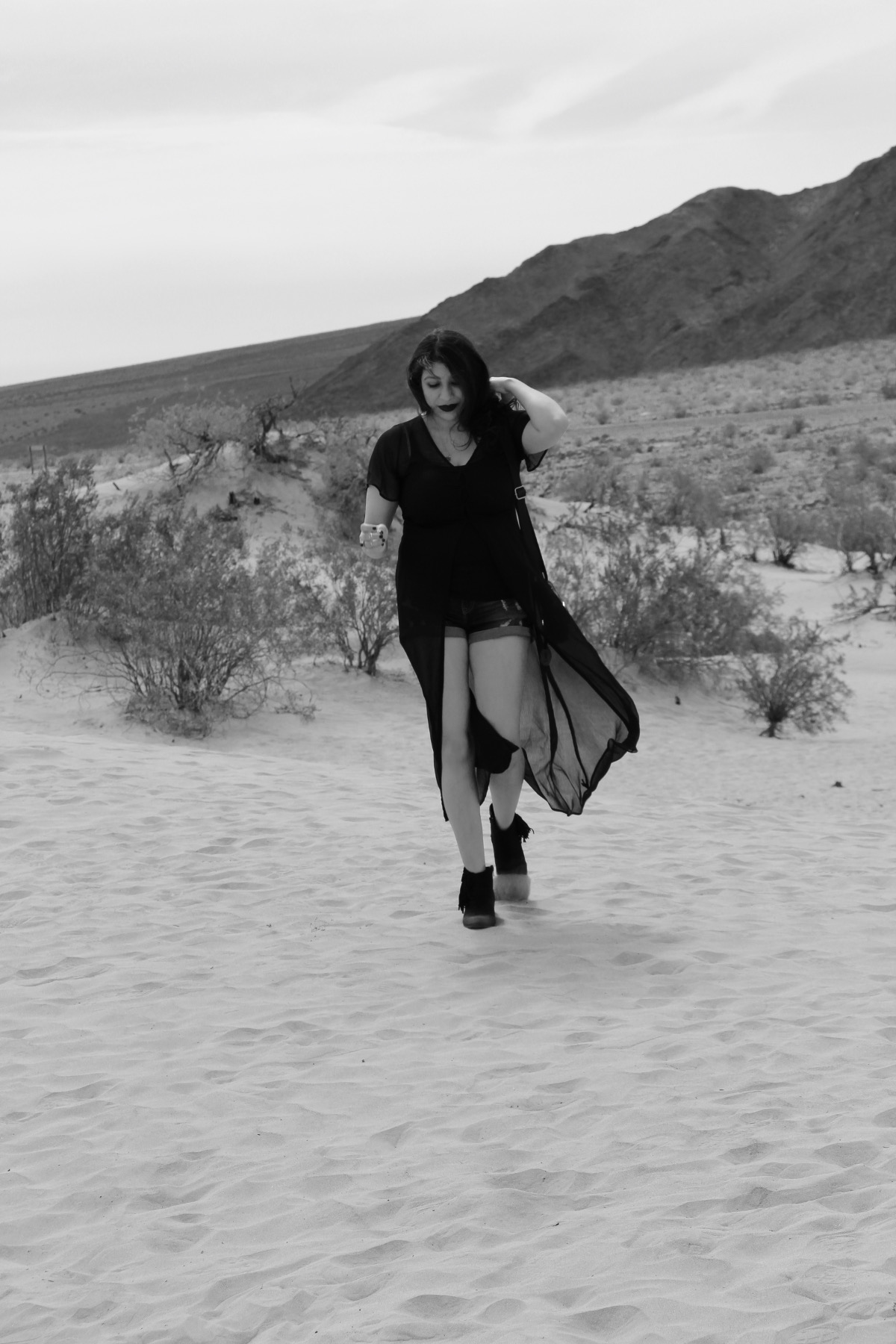 Showing my Coachella outfits has been long overdue. I went to Death Valley this past weekend with friends so I thought it would be the perfect setting to recreate them due to the desert vibes. Death Valley is a National Park between California and Nevada, and is the lowest point of North America. During this short trip, I visited the Mesquite Sand Dunes and Badwater Basin. Death Valley is known to have an extreme climate and it is considered the hottest place on planet Earth after the hottest temperature ever recorded took place there at 134° F (57° C) on July 10, 1913 at Furnace Creek. Fortunately, the weather during my time in Death Valley was warm and not too hot. I think the hottest temperature I've ever experienced is 116° F (47° C) at Laughlin, Nevada two years ago during summer.
From Los Angeles on our way to Death Valley, we spent a night in Ridgecrest which is about more than half way (the approximate time to get from Los Angeles to Death Valley is five hours). The following morning, we drove to our first stop: Mesquite Sand Dunes. If you want to visit Mesquite Sand Dunes, make your way to Stovepipe Wells. From there, it is a 2 mile drive to Mesquite Sand Dunes. At Mesquite Sand Dunes, there is parking and the Mesquite Sand Dunes are right in front of it. The Mesquite Sand Dunes are very easy to get to. You don't have to hike to get there or need a 4X4 vehicle. However, you might need a 4X4 vehicle to get to other places in Death Valley including Racetrack Playa which is known for its strange moving rocks. This is a place I want to see next time I visit Death Valley.
As for my outfit, this is the second outfit I wore to the first weekend of Coachella last month. This was my first time going to Coachella. I wasn't really sure what to expect, but now that I've experienced it, I'll go over two very important points in case you're planning on making 2017 your first time at Coachella. Wear comfortable shoes. To get to the music festival, there is a lot of walking and part of this walking is on dirt and gravel. I recommend shoes that aren't open-toe like sneakers and boots. The festival grounds are huge and more walking is going to be done there so leave those cute stilettos at home. Second, it might get very windy. To survive the dirt in the air, I highly recommend wearing a dust mask under a bandana to cover your nose and mouth. To protect your eyes, shades might not be enough so to have full eye protection, full-coverage goggles although they aren't the most fashionable or maybe you can start making them. Good luck!
---
He querido mostrar mis looks de Coachella por un tiempo. Fui a Death Valley este pasado fin de semana con amigos, así que pensé que sería el escenario perfecto para recrearlos debido a las vibraciones del desierto. Death Valley es un Parque Nacional entre California y Nevada, y es el punto más bajo de Norte América. Durante este corto viaje, visité Mesquite Sand Dunes y Badwater Basin. Death Valley es conocido por tener un clima extremo y se considera el lugar más caliente en el planeta Tierra después que la temperatura más alta que ha sido registrada tuvo lugar allí a 134° F (57° C) en julio 10, 1913 en Furnace Creek. Afortunadamente, el clima durante mi tiempo en Death Valley fue nomas un poco caliente. Creo que la temperatura más caliente que he sentido en mi vida es 116° (47° C) en Laughlin, Nevada hace dos años durante el verano.
Desde Los Ángeles a Death Valley, pasamos una noche en Ridgecrest que es aproximadamente más de la mitad de camino (el tiempo aproximado para llegar de Los Ángeles a Death Valley es de cinco horas). A la mañana siguiente, fuimos a nuestra primera parada: Mesquite Sand Dunes. Si quieres visitar Mesquite Sand Dunes, has tu camino a Stovepipe Wells. A partir de ahí, se maneja dos millas a Mesquite Sand Dunes. En Mesquite Sand Dunes, hay un estacionamiento y los Mesquite Sand Dunes están justo en frente. Es muy fácil llegar a Mesquite Sand Dunes. No tienes que escalar para llegar allí o necesitas un vehículo 4X4. Sin embargo, es posible que necesites un vehículo 4×4 para llegar a otros lugares en Death Valley, incluyendo Racetrack Playa que es conocido por sus rocas que se mueven misteriosamente. Este es un lugar que quiero mirar la próxima vez que visite Death Valley.
En cuanto a mi look, esta fue la ropa que lleve el primer fin de semana de Coachella el mes pasado. Esta fue mi primera vez en Coachella. Yo no estaba muy segura de qué esperar, pero ahora que fuí, voy a mencionar dos puntos muy importantes en caso de que estés pensando en hacer 2017 tu primera vez en Coachella. Lleva calzado cómodo. Para llegar al festival de música, hay una caminata larga y parte del camino es de tierra y grava. Recomiendo zapatos que no están abiertos como zapatillas y botas. Donde esta el festival es enorme y se camina mucho, así que deja esos tacones lindos en casa. En segundo, el clima podría ser muy ventoso. Para sobrevivir la tierra en el aire, te recomiendo que lleves una máscara de polvo bajo un pañuelo para cubrirte la nariz y la boca. Para proteger tus ojos, sombras podría no ser suficiente. Para tener plena protección en los ojos, gafas de protección de cobertura completa son necesarias, aunque no son de moda o tal vez tu puedas comenzar a hacerlas. ¡Buena suerte!
Here is a short poem by me:
THE LIVING DEAD
Punch in
Punch out
Sleep
Eat
Repeat
Don't repeat
Live
Truly,
Marisol Ceja
Photo Credit: Mike Sandoval